Welcome to Kitchen Remodeling Dos and Don'ts: New York Edition! Whether you're a lifelong New Yorker or have recently moved to the city, we understand the importance of a well-designed and functional kitchen. 
In this comprehensive guide, we'll walk you through planning, hiring professionals, designing, and executing your dream kitchen renovation in the vibrant city of New York.
The Importance of Planning Your Kitchen Remodel
Planning is the crucial first step in any successful kitchen remodel. It sets the foundation for the entire project and ensures that you make informed decisions. By taking the time to carefully plan your renovation, you'll save yourself from potential headaches and mistakes down the line.
What to Expect from This Guide
This guide is designed to provide you with a step-by-step framework for your kitchen remodel in New York. We'll cover everything from assessing your needs and setting a realistic budget to hiring reliable professionals and designing a functional and stylish kitchen.
Each section will highlight the dos and don'ts of each aspect of the remodeling process, ensuring that you have all the information you need to create the kitchen of your dreams.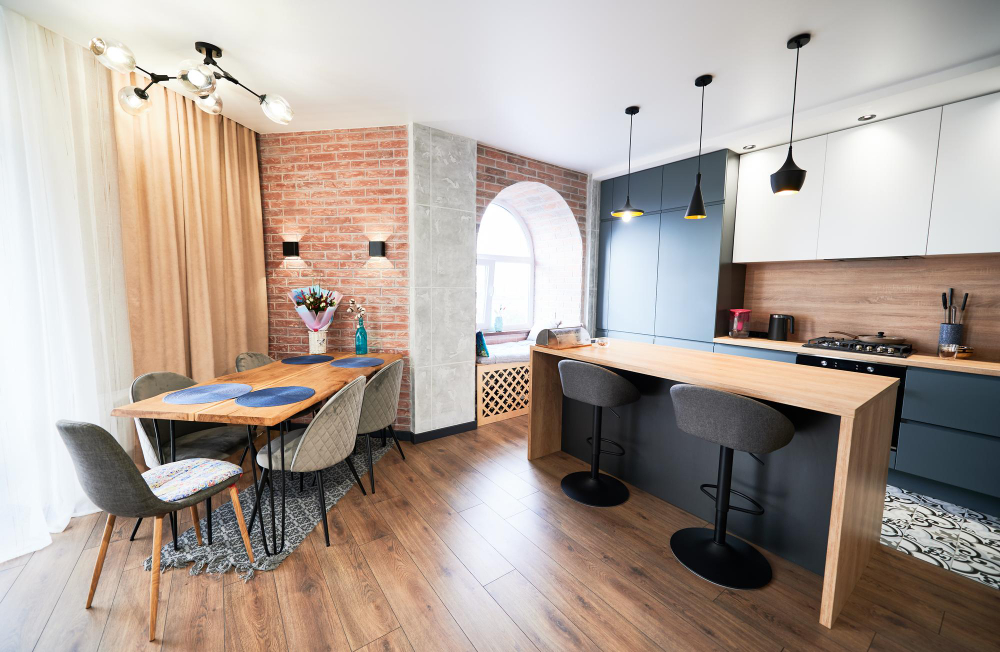 Planning Your Kitchen Remodel
Dos
Assessing Your Needs and Goals
Before diving into any kitchen remodel, take the time to assess your needs and goals. Consider how you use your kitchen and what improvements you'd like to see. Are you a busy home cook in need of more counter space? Do you dream of an open-concept kitchen for entertaining guests?
By understanding your needs and goals, you can tailor your remodel to suit your lifestyle.
Determining Your Kitchen's Functionality Goals
When planning your kitchen remodel, focus on determining your kitchen's functionality goals. Consider how you move around the space, where your appliances should be placed, and the flow of your kitchen workflow. Optimize the layout to create a seamless cooking experience that maximizes efficiency and convenience.
Creating a Budget
Setting a realistic budget is essential for any kitchen remodel. Determine how much you're willing to spend on materials, labor, and any additional expenses. As you set your budget, make allowances for unforeseen costs that may arise during the remodeling process. It's always better to have a buffer than to be caught off guard with unexpected expenses.
Finding Inspiration
Looking for inspiration is an exciting part of the planning phase. Explore kitchen design trends to discover styles, colors, and materials that resonate with you. Online sources such as websites, social media platforms, and design blogs are great places to start.
Additionally, visiting showrooms and model homes allows you to experience different kitchen designs firsthand.
Don'ts
Skipping the Planning Phase
One of the biggest mistakes you can make is skipping the planning phase of your kitchen remodel. Rushing into renovations without a clear plan can lead to costly errors and regrets. Take the time to meticulously plan every aspect of your remodel to ensure a smooth and successful project.
Why Rushing Is a Recipe for Disaster
Rushing through the planning phase is a recipe for disaster. Without careful thought and consideration, you may end up with a kitchen layout that doesn't meet your needs or utilizes the space inefficiently. Avoid the temptation to jump straight into the remodeling process and dedicate ample time to planning.
Avoiding Impulsive Decisions
Impulsive decisions can have lasting consequences when it comes to kitchen remodeling. Avoid making snap judgments about design elements or materials without thoroughly researching and considering all your options. Take your time to make informed decisions that align with your vision for your new kitchen.
Ignoring Your Budget
Ignoring your budget is a surefire way to overspend and encounter financial stress during your kitchen remodel. Stick to your predetermined budget to avoid incurring excessive costs that may strain your finances. Be mindful of the choices you make and prioritize your needs to stay within your financial means.
The Dangers of Overspending
Overspending can have serious ramifications for your kitchen remodel and your overall financial well-being. It's essential to have a clear understanding of the potential dangers of overspending and the impact it can have on your future. By staying within your budget, you can avoid unnecessary stress and enjoy a successful remodel.
How to Stick to Your Budget
Sticking to your budget requires discipline and careful planning. Consider prioritizing your must-haves and focusing on essential elements first. Research cost-effective alternatives for materials and appliances without compromising quality. Remember that your budget is a guideline to help you make educated decisions throughout the remodeling process.
Hiring Professionals
Dos
Researching and Interviewing Contractors
When it comes to hiring professionals for your kitchen remodel, thorough research and interviewing are essential. Look for contractors with a proven track record of excellence and experience in kitchen remodeling.
Pay attention to reviews, portfolios, and testimonials to ensure they are reputable and can meet your specific requirements.
Qualities to Look for in a Kitchen Remodeling Contractor
When assessing potential contractors, look for qualities that set them apart from the rest. A reliable contractor should possess excellent communication skills, attention to detail, and a solid understanding of various design styles. They should be responsive, accommodating, and have a collaborative approach to bring your vision to life.
Requesting Multiple Quotes
To ensure you're getting the best value for your money, obtain multiple quotes from different contractors. This will give you a comprehensive understanding of the market rates and allow you to compare services and estimates.
Remember to look beyond the price and consider the contractor's reputation, qualifications, and expertise.
Checking References and Past Work
Before making a final decision, be sure to check references and review the contractor's past work. Reach out to previous clients to inquire about their experience and satisfaction with the contractor's performance.
Observing the quality of past projects will give you a clearer picture of their craftsmanship and attention to detail.
Getting Permits and Approvals
Navigating the New York City building codes and regulations can be complex. Ensure that your kitchen remodel is compliant by obtaining the necessary permits and approvals.
Familiarize yourself with the permit application process and consult with professionals to ensure all legal requirements are met.
Understanding New York City Building Codes
Understanding the specific building codes in New York City is crucial to avoid costly mistakes and delays. Educate yourself about the local regulations regarding electrical and plumbing systems, ventilation, and fire safety. By adhering to these codes, you'll create a safe and functional kitchen that meets city standards.
The Permit Application Process
The permit application process can be overwhelming, but it's a necessary step to ensure a legal and compliant remodel. Gather all the required documents, including floor plans and specifications, and submit them to the appropriate city departments.
Be prepared for potential inspections throughout the remodeling process.
Environmental Considerations
Incorporating environmentally friendly practices and materials into your kitchen remodel is not only responsible but also adds value to your home. Explore sustainable options such as energy-efficient appliances, eco-friendly flooring, and water-saving fixtures. 
Consider the long-term environmental impact of your choices to create a greener kitchen.
Don'ts
Hiring Without Due Diligence
Hiring a contractor without conducting proper due diligence puts your kitchen remodel at risk. Rushing into an agreement without thoroughly researching the contractor's credentials and reputation may lead to poor workmanship, missed deadlines, or even abandoned projects.
Take the time to vet potential contractors until you find the right match for your project.
The Risks of Hiring the Wrong Contractor
Hiring the wrong contractor can turn your dream kitchen remodel into a nightmare. Inadequate skills, poor communication, and lack of professionalism can cause costly delays and unsatisfactory results.
Protect your investment by investing the necessary time and effort to find a reliable and trustworthy contractor.
Skipping the Background Check
Neglecting to conduct a background check on potential contractors is a recipe for disaster. Verify their licenses, certifications, and insurance coverage to ensure they meet the necessary requirements.
Additionally, check for any past complaints or legal issues that may indicate red flags or potential problems.
Neglecting Permits and Regulations
Neglecting to obtain the required permits and adhering to building regulations can result in serious consequences. Operating without permits can lead to fines, project shutdowns, and even lawsuits. 
Moreover, non-compliant remodels can negatively impact the resale value of your home. Always prioritize legal compliance throughout your kitchen remodel.
Consequences of Operating Without Permits
Operating without permits can have severe consequences for your kitchen remodel and your personal finances. In addition to the financial penalties, you may be required to undo the work completed without proper permits or approvals.
Protect yourself by familiarizing yourself with the necessary regulations and obtaining all required permits before starting your project.
The Impact on Resale Value
A kitchen remodel completed without permits can have a detrimental effect on the resale value of your home. Prospective buyers may be wary of purchasing a property with potential legal issues or non-compliant renovations.
By ensuring your remodel meets all legal requirements, you can confidently increase your home's market value.
Designing Your Dream Kitchen
Dos
Customizing the Layout
When designing your dream kitchen, focus on customizing the layout to suit your needs and preferences. Optimize the configuration to enhance workflow and create a harmonious space that accommodates your cooking style.
Consider factors such as proper ventilation, strategic lighting, and convenient access to frequently used items.
Optimizing Kitchen Workflow
Efficient kitchen workflow is key to creating a functional and user-friendly space. Organize your kitchen into distinct zones for food preparation, cooking, and cleanup.
Ensure that the flow between these areas is smooth and logical, minimizing wasted steps and promoting productivity.
Creating Ample Storage Space
Storage is essential in any kitchen. Maximize your storage options by incorporating cabinets, drawers, and shelving units that make efficient use of available space.
Consider innovative storage solutions such as pull-out pantry shelves, corner cabinets, and overhead racks, to keep your kitchen organized and clutter-free.
Maximizing Natural Light
Natural light can transform any space, including your kitchen. Utilize windows, skylights, or light tunnels to invite ample natural light into the room.
Not only does natural light create a more inviting and pleasant environment, but it also reduces the need for artificial lighting during the day, saving energy and lowering your utility bills.
Selecting Quality Materials
Investing in quality materials for your kitchen remodel ensures long-term durability and functionality. Choose countertops and flooring that can withstand daily wear and tear, while also enhancing the aesthetics of your kitchen.
Opt for materials that are easy to clean and maintain, allowing you to enjoy your new kitchen for years to come.
Choosing Durable Countertops and Flooring
Countertops and flooring are among the most utilized surfaces in the kitchen. Select materials that are resistant to scratches, stains, and heat, such as granite or quartz for your countertops.
For flooring, consider options like ceramic or porcelain tiles, hardwood, or luxury vinyl, which are both durable and aesthetically pleasing.
Picking Energy-Efficient Appliances
In today's eco-conscious world, energy-efficient appliances are a smart choice for your kitchen remodel. Look for appliances with high EnergyStar ratings, which consume less electricity and water without sacrificing performance.
Energy-efficient appliances not only help the environment but also reduce your energy bills in the long run.
Exploring Sustainable Options
Embrace sustainable options for your kitchen remodel to reduce your ecological footprint. Consider eco-friendly materials such as bamboo for cabinets and flooring, which are fast-growing and renewable.
Install water-saving faucets, low-flow showerheads, and LED lighting fixtures to conserve resources and minimize waste.
Don'ts
Overcomplicating the Layout
It's easy to get carried away with fanciful design ideas and overcomplicate the layout of your kitchen. However, a cluttered and overly intricate design can impede functionality and disrupt the overall flow.
Avoid overcrowding the space with unnecessary elements and strive for a streamlined and organized design that promotes efficiency.
The Pitfalls of Overdesigning
Overdesigning your kitchen can lead to a space that feels overwhelming and disjointed. Avoid cramming too many design elements, patterns, and colors into your kitchen.
Instead, favor a cohesive and balanced aesthetic that allows each element to shine while maintaining a sense of harmony.
Avoiding Cluttered Design Choices
Cluttered design choices can make your kitchen appear messy and chaotic. Stay away from excessive ornamentation, unnecessary decorative items, and too many open shelves filled with knick-knacks.
Embrace simplicity and clean lines, allowing the beauty of your high-quality materials and carefully selected details to take center stage.
Sacrificing Quality for Price
While it may be tempting to cut costs by sacrificing quality, remember that investing in high-quality materials pays off in the long run. Cheap materials may deteriorate quickly, causing you to spend more on repairs or replacements.
Prioritize durability and longevity to ensure your kitchen stands the test of time.
The Long-Term Costs of Cutting Corners
Cutting corners during your kitchen remodel may seem advantageous in the short term, but it can lead to long-term costs and headaches. Inferior materials or subpar workmanship may require frequent repairs or replacements, significantly increasing your expenses in the future.
Make informed decisions and prioritize quality to avoid unnecessary expenses down the line.
Recognizing Low-Quality Materials
It's crucial to be able to recognize low-quality materials and avoid them when designing your dream kitchen. Research the characteristics, lifespan, and maintenance requirements of various materials to make informed choices.
Seek advice from professionals or consult reputable sources to ensure that you select high-quality materials that meet your needs.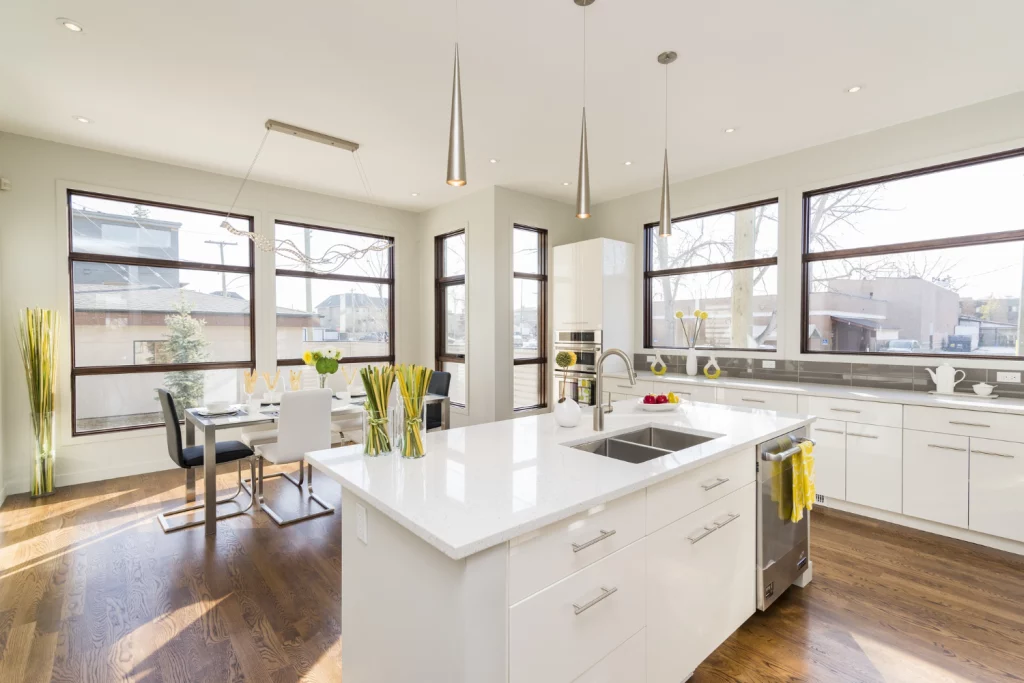 The Remodeling Process
Dos
Establishing Clear Communication
When embarking on a kitchen remodeling project in New York, clear communication is essential for a successful outcome. Make sure to establish open lines of communication with your contractor from the beginning. By clearly expressing your expectations and desires, you can ensure that everyone is on the same page and avoid any misunderstandings.
Maintaining Open Lines of Communication with Your Contractor
Throughout the remodeling process, it's important to maintain open lines of communication with your contractor. Regularly check in with them to stay informed about the progress and address any questions or concerns that may arise. This ongoing dialogue will help foster a positive working relationship and enable a smoother remodeling experience.
Handling Unexpected Issues
Despite careful planning, unexpected issues may crop up during a kitchen remodel. Whether it's a hidden plumbing problem or a structural issue, it's crucial to address these complications promptly and effectively. Maintain a flexible mindset and work closely with your contractor to find appropriate solutions, ensuring that the remodeling process continues to move forward seamlessly.
Staying Informed about Progress
To alleviate any anxiety or uncertainty, stay informed about the progress of your kitchen remodel. Regular updates from your contractor will keep you in the loop and allow you to envision the final result. This knowledge will enable you to make informed decisions and provide necessary feedback during the remodeling process.
Preparing for Disruptions
A kitchen remodel often disrupts the normal functioning of your home. However, through proactive measures, you can minimize the impact of these disruptions and make the process more bearable.
Creating a Temporary Kitchen Setup
During the remodel, creating a temporary kitchen setup can greatly assist in maintaining some semblance of normalcy. Set up a temporary kitchen area in another part of your home where you can prepare meals, store essential items, and have access to basic kitchen facilities. This will help you cope with the inconvenience of not having a fully functional kitchen and ensure that your daily routine continues with minimal disruption.
Managing Dust and Noise
Remodeling projects often generate a substantial amount of dust and noise. To minimize their impact, communicate with your contractor about utilizing dust containment methods, such as plastic barriers or temporary walls. Additionally, wearing protective masks and headphones can help reduce any discomfort caused by the noise and dust.
Handling Delays Gracefully
Delays are an unfortunate reality in any remodeling project. Instead of becoming frustrated, it's important to handle these delays gracefully. Keep lines of communication open with your contractor, discuss any reasons for the delay, and work together to find solutions.
A positive and understanding attitude will help maintain a healthy relationship with your contractor and keep the project moving forward.
Don'ts
Micromanaging the Project
While it's important to stay informed and involved in your kitchen remodel, micromanaging every detail can hinder progress and frustrate your contractor. Trust in their expertise and allow them to execute the project according to the agreed-upon plans.
This will not only enhance the efficiency of the remodeling process but also foster a collaborative and harmonious working relationship.
Trusting Your Contractor's Expertise
While it's essential to trust your contractor's expertise, it's equally important to remain an active participant in the remodeling process. Stay engaged and ask questions to ensure that you are satisfied with the decisions being made.
Strike a balance between reliance on your contractor's knowledge and your own personal vision for your kitchen.
Avoiding Constant Changes
Constantly changing your mind or making frequent design alterations can lead to delays and increased costs. It's crucial to have a clear vision at the beginning of the project and communicate it to your contractor.
By avoiding constant changes, you'll maintain project momentum and prevent unnecessary stress.
Underestimating the Impact
A kitchen remodeling project can be disruptive to your daily life and routines. It's important not to underestimate the impact it will have on your living situation and emotional well-being.
The Stress of Living Through a Kitchen Remodel
Living through a kitchen remodel can be stressful, but there are strategies you can employ to cope with the challenges it presents.
Strategies for Coping
To alleviate the stress of living through a kitchen remodel, establish a routine that minimizes disruptions. Plan meals in advance, create a designated space for relaxation, and maintain a positive mindset throughout the process.
Additionally, taking breaks from the construction zone by exploring the vibrant city of New York can provide a much-needed respite from the chaos.
Final Touches and Clean-Up
Dos
Inspecting the Work
After the completion of your kitchen remodel, it's essential to conduct a thorough inspection to ensure that everything meets your expectations and specifications.
The Importance of a Detailed Walkthrough
During the final walkthrough, carefully examine every aspect of your newly remodeled kitchen. Pay close attention to the quality of the workmanship, the functionality of appliances, and the overall aesthetics. Take note of any deficiencies or areas that require further attention.
Addressing Any Deficiencies
If during the inspection, you come across any deficiencies or areas that do not meet your expectations, address them promptly with your contractor. Clear communication will enable necessary adjustments and ensure that your kitchen remodel is perfected to your satisfaction.
Adding Personal Touches
To truly make your kitchen your own, add personal touches that reflect your style and personality. Consider choosing decorative elements and accessories that enhance the overall aesthetic and create a warm, inviting atmosphere.
Choosing Decor and Accessories
When selecting decor and accessories for your newly remodeled kitchen, opt for pieces that complement the design and color scheme. Incorporate unique and eclectic elements to add a touch of individuality and create a space that feels distinctively New York.
Making Your Kitchen Functional and Stylish
While style is important, don't forget about the functionality of your kitchen. Ensure that the layout and organization of the space meet your specific needs. Utilize storage solutions that maximize space, prioritize efficiency, and maintain a clutter-free environment.
Post-Remodel Cleaning
Completing a thorough post-remodel cleaning will help maintain a fresh, safe, and healthy environment in your newly remodeled kitchen.
Deep Cleaning Tips and Tricks
To deep clean your kitchen after the remodel, start by removing any construction debris or dust. Scrub all surfaces, including countertops, cabinets, and appliances, with appropriate cleaning products. Pay special attention to hard-to-reach areas and ensure that the entire space is sparkling clean.
Ensuring a Safe and Healthy Environment
After all the construction, it's important to ensure that your newly remodeled kitchen provides a safe and healthy environment for you and your family. Check for any potential safety hazards and address them promptly. Additionally, consider utilizing eco-friendly cleaning products to maintain a sustainable and health-conscious kitchen.
Don'ts
Rushing the Final Inspection
The final inspection is a crucial step in the remodeling process, and rushing through it could lead to overlooking important details or deficiencies.
Avoiding a Superficial Check
When conducting the final inspection, avoid a superficial check that only scratches the surface. Take the time to meticulously examine every aspect of your remodeled kitchen, from the layout to the smallest details. This thorough inspection ensures that the project is truly complete and meets your expectations.
Holding Contractors Accountable
While it's important to address any deficiencies or issues, it's equally crucial not to hold your contractor solely accountable for every minor imperfection. Understand that some imperfections are inevitable in any remodeling project. Instead, focus on engaging in open and constructive communication with your contractor to address any concerns and find suitable solutions.
Neglecting Cleaning and Maintenance
After the remodeling is complete, neglecting cleaning and maintenance can diminish the longevity and quality of your investment.
Protecting Your Investment
To protect your investment, establish a regular cleaning and maintenance routine for your new kitchen. This includes proper care for appliances, consistent cleaning of surfaces, and addressing any repairs or maintenance needs promptly.
Preventing Future Issues
By staying proactive and vigilant with cleaning and maintenance, you can prevent future issues and ensure that your newly remodeled kitchen continues to shine for years to come.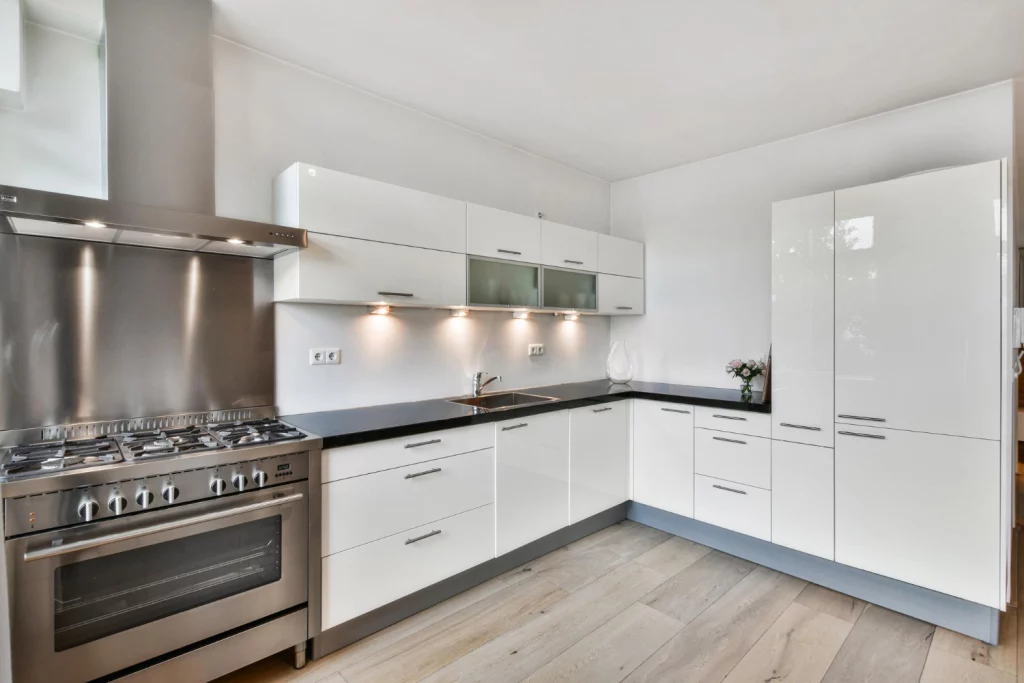 FAQs (Frequently Asked Questions)
Q1. What permits do I need for a kitchen remodel in New York?
Answer: You may need permits for structural changes, electrical, plumbing, and gas work. Check with your local building department for specific requirements based on your project's scope.
Q2. How can I maximize kitchen storage space in a small New York apartment?
Answer: Opt for custom cabinetry, use vertical storage solutions, and consider built-in appliances to make the most of limited space in New York's smaller kitchens.
Q3. What countertop materials are best suited for New York kitchens?
Answer: Granite, quartz, and butcher block are popular choices due to their durability and aesthetics. Consider your budget and maintenance preferences when selecting a countertop material.
Q4. Are there energy-efficient options for kitchen appliances in New York?
Answer: Yes, Energy Star-rated appliances can help reduce energy consumption and lower utility bills. Look for appliances that meet these standards when remodeling your kitchen.
Q5. Should I hire a professional kitchen designer in New York?
Answer: Hiring a kitchen designer is advisable, especially for complex projects. They can help you optimize space, choose materials, and navigate local building codes and regulations.
Q6. What are the common mistakes to avoid during a kitchen remodel in New York?
Answer: Avoid over-customization, neglecting lighting, not setting a realistic budget, and failing to obtain necessary permits or approvals before starting the project.
Q7. How can I add a touch of New York style to my kitchen remodel?
Answer: Incorporate elements like subway tiles, open shelving, and industrial accents to capture the classic New York aesthetic. Don't forget to consider the city's diverse culinary influences in your design.
Q8. What's the typical timeline for a kitchen remodel in New York City?
Answer: The timeline varies based on the project's complexity, but it can range from several weeks to a few months. Factors such as permits, material availability, and contractor scheduling can impact the duration.
Conclusion
Congratulations on your newly remodeled kitchen! By following the dos and don'ts outlined in this article, you've navigated the kitchen remodeling process in New York City with expertise and finesse. Your dream kitchen has become a reality!
Recapping the dos and don'ts, you've learned the importance of clear communication, managing unexpected issues, staying informed, handling disruptions, and maintaining a positive attitude throughout the remodeling process.
Additionally, you've discovered the significance of thorough inspections, adding personal touches, and post-remodel cleaning to ensure a successful outcome.
Your journey towards a functional and stylish kitchen in the bustling city of New York doesn't end here. Refer to the frequently asked questions below for more guidance on topics such as cost, permits, finding reliable contractors, design trends, and maximizing storage space in smaller kitchens.
Additionally, make use of the post-remodel maintenance tips to prolong the life and beauty of your newly renovated kitchen.
Your dream kitchen awaits! Embrace the possibilities and enjoy the fruits of your successful kitchen remodeling adventure.