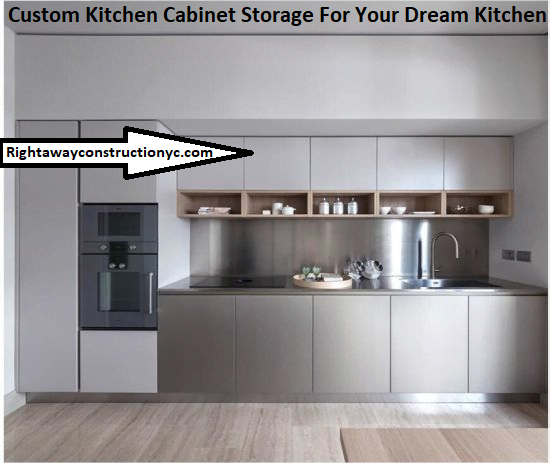 Whether you want to create a traditional kitchen with wood cabinets and marble countertops, or you are more adventurous, you have to consider the eclectic look of a modern, contemporary, or mixed kitchen. The only real limitations to your custom kitchen design are your imagination and budget.
In addition to the design, you will want to consider the types of cooktops you would like to use. There are new induction options, which feature virtually invisible burners and knobs, as well as innovative surfaces. Gas cooktops are also available with custom features and designs.
Importance of storage in a kitchen
Storage is a key element of a dream kitchen. From stainless steel to laminate surfaces, you can choose the style and material that will best suit your needs. From warm tones to professional looks, there is a type of kitchen storage to suit your style and your needs.
While choosing materials for your kitchen, keep in mind that your kitchen should be practical, but still aesthetically pleasing. The ideal kitchen should be both functional and livable, so take your time and make sure you have ample space for storage.
Simple storage options for a custom kitchen
Storage can be as simple as a pull-out drawer or a toe-kick. If you don't want to spend a lot of money, you can use a pull-out shelf for spices and cutlery. Built-in wine storage is another great option. For the ultimate in organization, you can opt for a Walk-In Pantry. With its multiple features, this space will be the center of attraction for any kitchen.
The designer should also use custom-designed sinks and faucets. Your dream kitchen can feature a single sink or multiple sinks, multiple faucets, and a variety of materials. Additionally, the design should be practical and multipurpose. You can make your kitchen a place to eat, work, and entertain, so a good storage solution is essential.
Tasks you can do in a kitchen
A Dream Kitchen is a space where you can prepare all of your favourite foods and drink in style. You should think of how you can customize your kitchen in terms of storage and functionality. You will be happier with your dream kitchen when you know the best place to store your food. Its design is a reflection of your personality and the people living in it.
Lastly, a Dream Kitchen is a space where you can spend time with your family and loved ones. Though it's not the perfect place to entertain and relax. You can do all of this while you prepare delicious meals and eat in comfort. The kitchen is the heart of the home, so incorporating it into your home will make you feel at ease.
How your dream kitchen should be designed?
The layout should make cooking easier and more enjoyable. A kitchen that is not organized properly is less likely to feel dreamy. A kitchen should be easy to use, and the design should focus on convenience. When you are busy, it is important to have a kitchen that can easily be cleaned and reorganized. If you don't have a large space, consider a smaller, open one.
While you may be a little more flexible in a kitchen, you should still plan the layout carefully. It is important to think about comfort and function when planning a kitchen. For example, a kitchen with an island can be more functional than one with a small island. A smaller island can also make a large kitchen look even more streamlined. Moreover, the perfect design of the kitchen is crucial to the way you spend your time.
Final Verdict
To make a dream kitchen, you need to know the exact layout of the space. A kitchen should be organized with multi-function storage options. The layout should be easy to reach and maintain. A modern custom kitchen should have high-quality finishes and smart appliances.
In short, a modern, efficient kitchen is a kitchen that is convenient to use. When you know the layout properly, you can create the ideal space for your kitchen. If you do not, you will not be able to make your dream a reality. Whether you need to make a new custom kitchen or want to remodel it, you can hire the Right Away Construction Corp for assistance.